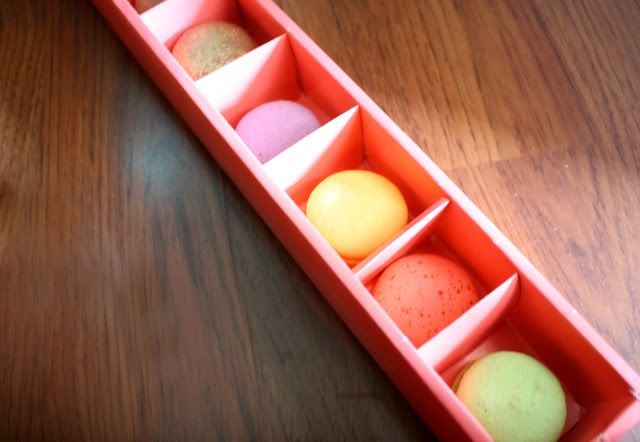 i have been glancing for this stylish cute eyecatching cookies for a long time. Finally, there's a bakery shop that sells macaroon in Medan.. Yeah it's BAKERZIN. this is my very first time to eat this. My boyfriend bought me these on our 18 monthsversarry. Look at those color. very beautiful. And the texture on the inside is very soft. The taste is very sweet for sure and very addictive too. I had a small bite of each, got
satisfied, but was tempted to have another bite after a while.
I have the recipe of macaroon:
White Chocolate Macaroons
1 1/4 cups (275g) icing (confectioner's) sugar
1 cup (120g) almond meal (ground almonds)
3 egg whites
2 tablespoons caster (superfine) sugar
white chocolate filling
200g white chocolate, melted
pink food colouring
Method:
To make the white chocolate filling, place the white chocolate and a few drops of food colouring in a bowl and mix until well combined. Set aside.
Preheat the oven to 160 degrees C. Place the icing sugar and almond meal in a bowl and mix well until combined. Set aside.
Using a hand-held electric mixer, beat the egg whites, gradually adding the caster sugar until soft peaks form. Add the almond meal mixture and beat until smooth. Place 1 teaspoon of the mixture at a time onto baking trays lined with non- stick baking paper and allow to stand for 10 minutes. Bake for 10-12 minutes or until crisp on the outside and moist in the centre. Allow to cool completely on trays.
Spread half the macaroons with the chocolate filling and sandwhich with the remaining macaroons. Makes 12.